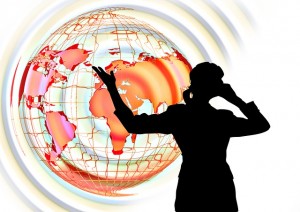 Providing support over the Internet is more challenging than moving a piano up a flight of stairs alone!  Initial contact with each customer creates a sense of dread as you open a support ticket, or email.  You know that no one has written to you to explain that you are the most wonderful person in the world.  That first daily glance at the situation is enough to cause most people to stay in bed.
 Who wants the frustration of dealing with more people
who are dissatisfied with some aspect of my business?
The honest answer is, "I do!"  Communication from my customers is the most valuable asset I have because they challenge me to do better next time.  Any issues they encounter provide ideas for my next product.  Customers might not be aware of the invaluable insight they into the market and the competition.   What do I do?
Listen carefully!
Customers Assume the Worst
Every customer brings an extensive history of good, and bad, buying experiences.  Anything unexpected brings back the most negative memories your customer has endured.  Each one will respond in different ways from an accusation to a demand for an immediate refund.  Your previous customer support experience will shine through when you remember the basis for the customer's tone and actions.  Customers assume:
No one will help – Imagine receiving an email from someone on the other side of the world and clicking on a link. You find a great product and make the purchase.  Anything that goes wrong causes panic that you have no way to address the issue.  No one will solve this problem.  All reason is left behind.
Money is lost – Customers who have experienced loss of funds in previous transactions have no patience for problems with purchases. You really can't blame someone for overreacting if they have lost money in the past.
Trust misplaced – Internet purchases are fraught with risk, which is increased when scammers and thieves arrive on the scene. Your efforts to sell anything online will be challenged if customers perceive that they cannot trust you.
Control Your Reaction
As an experienced software support professional, I have endured countless situations where the customer overreacted.  In the corporate world, my reaction was to walk down the hall counting backwards and aloud from 100.  My team always knew when I was trying to find the best way to respond without reacting.  Those encounters have served me well in my recent attempts to handle customers who are angry about some aspect of the Internet sales process.
Write complete sentences – Your ability to write in a friendly tone begins with composing a note that contains complete sentences. Beware of your need to "straighten out" the customer.  You have to set that aside in your quest to calm the situation and redeem the sale.
Use all pleasantries – "Please" and "thank you" are the most powerful phrases in any language. I have always been amazed at the power of the written word when you refuse to react in the same tone as your customer.  You have the ability to change that person's opinion of your business and the entire Internet marketing industry.
Ask for feedback – End your notes with a request for feedback when the customer has attempted to follow your directions. You want to know that they are successful and that the issue has been resolved.  You will save so many sales when you join your customers on the same side of the issue.
Know Your Limits
Back to my corporate days: One of my support analysts walked up to me and said, "you are going to kill me."  I asked her what had happened, and she responded, "I hung up on a customer."  My response was, "what did he do?"  She said, "How did you know it was him?"
Now, you have to know that as a management team, we had told the analysts that customers were not allowed to swear at them on the phone.  They had permission to tell the customer that they were hanging up and to call back when they wanted to address the issue.
As an online business owner, you must make similar decisions.  Most of your limits are already established.  You know what you will address with a customer and when the situation is unredeemable.  Only you can make the determination and the decision to take appropriate action.  Move through this series of steps carefully.
Gather facts – Support tickets provide the records we need to make informed decisions when dealing with irate customers. Too many times, the customer will reveal aspects of the situation that provide sufficient grounds to take action.
What behavior is unacceptable? – You might not know where your limit is until a customer crosses a line. I hope that you never have that type of problem.  At times, you will want to consult with an experienced person who can provide guidance and ideas.
How will you handle each violation? – Use of the "blacklist" feature on various websites is not the best approach for every situation. At times, you must take this extreme step to protect your business, your reputation and your team.  Add someone to your blacklist only after due diligence has been conducted.
Redeem Every Situation
Customers are the lifeblood of my business, and I have some great ones!  So many intelligent and creative people have entered my business and purchased my products.  Anyone who addresses a support issue with me is going to receive the same level of professionalism.  I know that kind words and thorough responses can create loyal customers in ways that still surprise me.  I was taught how to handle conflict with customers from the earliest days of my career.  People are people, the world over.  Everyone deserves respect.  In return, most people will give respect.
To give real service you must add something, which cannot be bought or measured
with money, and that is sincerity and integrity.
~ Douglas Adams