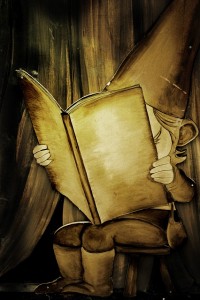 Legendary stories start with, "once upon a time" unless you are in the southern tier of the United States where the opening line will be, "ya'll ain't gonna believe this!"  The moment we hear that introductory phrase, we know that a great story is sure to follow.  Images form in our minds as we listen to the narrative about the setting, characters and action.  Around the globe, civilizations have kept legends alive through storytelling.  As man moved onto every continent, the stories made the journey and new tales were added to the lore.
People love stories in the written and oral form.  Interest builds as an individual shares details from a life of challenge that has emerged into decades of remarkable success.  Listeners and readers want to know more and will remain entranced until every question is answered.  Storytelling can be used in every aspect of business when you look for the ways in which your story can be included in every form of communication.  Master the art of storytelling and watch others follow you anywhere, somewhat like the Pied Piper.
Open with a Hook
I have to admit that I spend more time on my first sentence than the entire rest of the piece.  How long do you think Dickens considered the first two phrases of his opening sentence of "A Tale of Two Cities?"
"It was the best of times, it was the worst of times."
The rest of the sentence is an entire paragraph that entraps the reader in an unmistakable scene.  Dickens wrote books that remain classics because of the story. Your subject line on an email or the title on a blog post serves the same purpose.  Your reader wants to know how much attention to give you.
Tell Your Story
Every sentence you write is an important portion of your story.  Readers know when you are sharing a portion of your life with them.  Recent events offer fodder for stories that are serious, funny or meaningful.  As you reveal the series of events, your reader comes alongside and wants to know that there is something intriguing in the words on the page.  You can create suspense as you ask questions and string some "bait" throughout your narrative.  Retaining interest requires answering those questions in the order that does not give away your meaning too soon.
Reveal Your Objective
Pointless stories lose the reader's interest almost immediately.  Writing a great story is the perfect opportunity to "begin with the end in mind."  You might want to write the final paragraph of your email or blog post to know where you will end.  The middle section will tie your story into the final paragraph.  In the first few sentences you will want to hone your skills in telling the story in the fewest number of words possible.
Reflect on the relevancy of your story as you bring your piece to a close.  Tell your reader the moral of your story.  You might even name the people who would benefit most from your story.  You will want to assume that your audience does not grasp your meaning.  As you bring your story to a close, provide answers to every question.  Create interest in your ending when you include a quote, little-known fact or helpful idea.
Everyone Has a Story
As a great storyteller, you will want to start at the beginning of this process and include every facet.  Your reader will pay close attention to your emails and blog posts when you share part of yourself in every story.  Every person selects the most comfortable detail level.  Your story will evolve over time and you will take other people along for the ride.
"A good storyteller is a person with a good memory
and hopes other people haven't."  ~ Irvin S. Cobb
Do you love great stories?
Leave a comment and join the conversation.
— Mialei