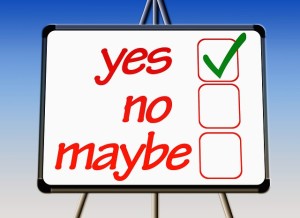 Superior results, fair prices and quality products are lauded as the most important aspect of any business.  I have come to believe that these aspects of business are overwhelmed by the inability of too many business people to simply let "yes" mean "yes" and "no" mean "no."  Layers of legalese are written into every business process because people are quick to agree to provide goods and services.  Few people recognize the importance of following through and keeping every commitment.
Core Business – My most recent experience with a company that failed to deliver on a commitment was when a landscaper created a drainage problem between my neighbor's house and my property.  We all discussed the solution, and the landscaper promised to return the next week.  Other issues with the project were corrected, but the drainage problem remains.  Would I hire this landscaper?
Prompt Arrival – A window installer called me to say he was coming over to set the new windows in the garage.  I informed him that he would have to arrive before 3 pm because I had a commitment.  He drove into the driveway at 3:30 pm.  Our exchange was brief as I told him to leave his supplies in the garage and arrive on time the following morning.  Will this window installer get another order from me?
Careful Statements – I recently met someone who was writing a course with some technical aspects that would require expertise for a clear explanation.  Another person promised to make those videos.  At the last minute, he decided that he did not have time.  Will I buy an information product from him?
In your dealings with others, do you keep your word?  If you do, you are a rare gem who will stand out from everyone around you.
In your comment, share your experiences and how you responded when someone did not deliver on something promised.
— Mialei