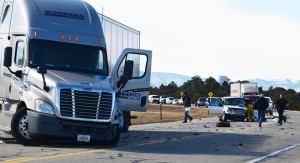 My mind would not focus on that fateful afternoon when the phone rang and the voice said, "I am the nurse in the emergency room in Walsenburg, Colorado, and I have both of your parents."  I listened as she spoke of minor injuries and miraculous efforts by two semi truck drivers and numerous first responders.  I never dreamed I would receive one of those "dreaded calls."
Handle the Immediate
I made the phone calls to inform other people and then headed for the hospital 90 miles away.  All that I had planned to complete was set aside for life's highest priorities.  I knew that most of what I wanted to do to make progress on my first product could be done in smaller segments of time.
In the days that followed, I returned to some of those tasks and moved forward on the task list that I had made more than a week before.  I could stay on track with the right series of steps, with constant interruptions, because I had already made my plan.  My mind is full of questions about caring for my parents, but my business has not suffered in the past week.
Do What is Possible 
Sitting in a hospital room working on the highest priority tasks has allowed me to worry less and be productive.  Some tasks just cannot be completed where anyone else is present.  I am supposed to be making some recordings, so those will have to wait a few days.  Quiet is not a common trait in a hospital room.
My task list is growing, but at least I have not lost track of all my ideas.  Control over my thoughts has been one of the greatest challenges.  I do not want to think about what could have happened in the accident if the first semi driver had not moved to his right and onto the shoulder of the road.  He saved my parents' lives.  I refuse to allow my mind to be my enemy.
Investigation into my parents' transition back to home has caused me to recognize the seriousness of aging.  I never realized how many people must participate in decisions for them.  Relationships are more important than ever when you reach out for help to find the resources for rehabilitation and long-term elder care.
Yesterday, we realized that the first step will be a rehabilitation center.  We made the decision to move both of them to an assisted living center for at least two months after the rehab center.  My mother's sister is the administrator of a lovely facility just one mile from my parents' home.  The details have been addressed.  Time will provide insight for their ability to return home.
Delays Are Inevitable
I am aware that the launch of my product will be delayed.  I might make up the time later, but at this point, life is too much to handle.  Refusing to accept the immediate delay would make everyday impossible.  My product might even improve with the care and energy that I will invest once life returns to some semblance of normalcy.
I guess the moral of the story is that life's priorities ebb and flow, but my dream of success in this business must never die!
How do you handle those unexpected events of life?
Leave a comment and participate in the conversation.
— Mialei