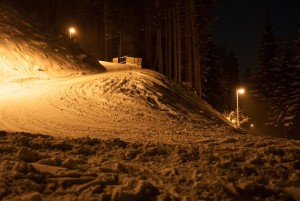 This icy road is a perfect illustration for the point in time before New Year's Day launches another opportunity to meet our goals.  A few days in limbo while the New Year arrives will provide sufficient time to look back down the road that has been traveled.  Before you write some goals for 2015, there is still time to reflect on the past 12 months.
Ask yourself some tough questions:
Do I even remember my goals for this past year?
Did I achieve any of the milestones that I selected this time last year?
Did I use my time effectively?
When was the last time that I set goals and then achieved each one?
Are my goals aligned with my life?  Or is my life aligned with my goals?
Each year, I look for ways to change my current reality.  Maybe 2015 will be the year that catapults me into the life that I really want to live.  Chasing money is not the objective for the business that has presented itself.  I want to use the skills that I have honed for the past 20 years.
Imagine working with amazing people and having something to offer each one!  Maybe this is the year that I can spend less time worrying about money and more time figuring out how to thrive.  My hopes and dreams include more travel and less frustration with the daily grind.
The first couple of months of the new year will require focus on learning everything possible to reach my first goal in March.  After that, I will set the next set of milestones for the second quarter.  Changing my approach to goal setting will ensure that more is accomplished after each success.
Some people know exactly where they want to be in 5 years.  I have never had that perspective on life.  Too much emphasis on the future causes me to overlook the present.  I no longer wish to live at light speed.  My pace will be determined by my ability to learn and apply all of the information.
How will you spend the coming year?  Are you a goal setter?  Do you just take life as it comes?
Leave a comment and join the conversation.
— Mialei