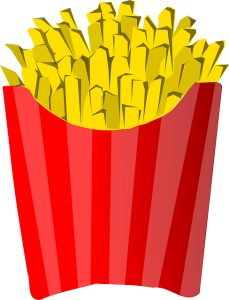 I thought it was a simple request:  a large order of fries.  A half order of stale fries was delivered in a couple of minutes.  I got out of the truck and went inside.  I reported my findings and was told the situation would be corrected.  I opened the bag to find steaming hot, fresh French fries and a complementary order of chicken nuggets.
Now she had my attention!
Customer service is the third pillar of business.  Nothing gains loyalty like responding to a customer concern with understanding and a dash of generosity.
Here are some other great ideas to offer stellar customer service:
Listen to your customers

– Businesses waste too many resources attempting to offer what the customer does not want. Our customers are not visible, so we must communicate with them to figure out what is most important to each one.  Just the act of listening stands out in this electronic world.

Offer help

– Flippant written responses will turn off your customers. Questions should be answered in full sentences that reflect your care for the other person.  One curt response can be forwarded far and wide.  Your written responses can win customers for you if you take a few seconds to add those warm phrases.

Train others

– Anyone who works in your business must be trained to complete the work in the way that you would. Customer service is challenging if people in your business are not able to communicate in professional and friendly ways.

Take the extra step

– Sometimes you will receive a question that requires more than one step in a process to answer. Your customers will appreciate your insight if you will add one or two additional bits of information in your answers.

Add something extra

– Just like my fast food experience, your response might call for an additional response to your customer. Additional information about your product might help your customer get even more from your service.
Your customers will notice when you go the extra mile on their behalf.  Each person is unique and requires your special touch.  Sometimes we make this too difficult because we forget that all of us are customers somewhere.  The simple rule is to treat your customers the way you want to be treated.  Sound familiar?  We call that the Golden Rule.  People will respond when you take a few moments to show that you really do care.
What experiences have you had with amazing customer service?
Leave a comment and join the conversation.
— Mialei